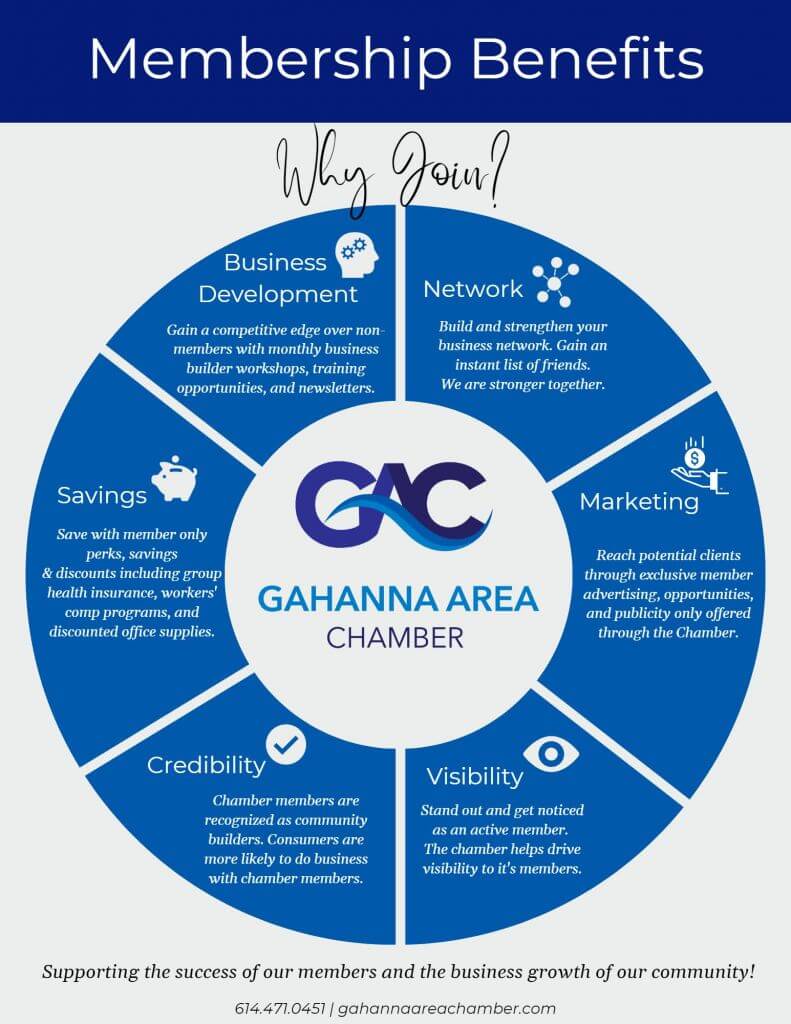 In addition to the benefit of simply being involved in the Gahanna Community, the Gahanna Area Chamber offers its members practical and tangible benefits as well. Get on board and see the difference!
Celebrate the opening of your new business, business anniversary, or the expansion/relocation of your existing business with a ribbon cutting. The Gahanna Area Chamber is excited for your success and wants to mark this momentous occasion. This is a great marketing opportunity to share with the community.
Our primary goal is to help business owners network and grow. We host networking events, fundraisers, workshops, and other activities -- all with the aim of connecting business owners. You will meet other members of your community which can help build your professional network and market your business.
Advertise in The Gahanna Area Chamber newsletter by taking out a company ad. The Chamber newsletter is sent bi-weekly to 350+ local businesses.
Members are regularly acknowledged in the Chamber community.  New members are introduced at the Chamber Annual Meeting and Business Builder Events as well as newsletters and social media.
Receive "member-only" discounted ticket pricing on some of Gahanna's most sought after and popular events throughout the year.            
Have a company announcement?  Contact the Chamber we will publicize your business's upcoming sale, event, or announcement through the Gahanna Area Chamber Newsletter which is sent bi-weekly to 350+ local businesses and prospective Chamber members.
Host the Chamber's next Off the Clock event at your place of business. A great way to stand out and get noticed as an active member is by having other businesses come to your location and see the business in person.
One of our most popular annual events is the Chamber Golf Outing. Receive a complimentary marketing opportunity by getting your name and logo on one of the golf outing tee signs.
Receive a VIP Priority Member listing on every Chamber newsletter. Your business website link will also be attached to your listing.